Kids Martial Arts Classes In Rancho Cucamonga
Give Your Child A Boost Of Confidence And More In Our Kids Martial Arts Classes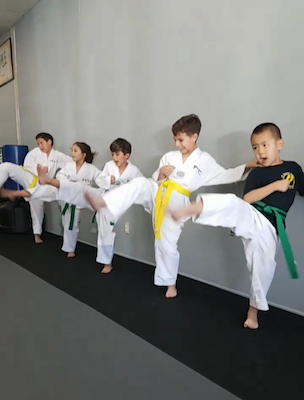 Give your little one an exciting way to learn and grow with our Kids Martial Arts Classes in Rancho Cucamonga. We are proud to offer age-specific classes for students as young as 3, helping them build mental discipline, respect, and self-confidence in no time.
Our Kids Martial Arts Classes at DRVN Martial Arts are perfect for students of all backgrounds and experience levels!
Find The Kids Martial Arts Class That Works Best For Your Child!
Our primary goal at DRVN Martial Arts is to help students have fun staying active as they build important physical, mental, and emotional tools. Our Kids Martial Arts classes are broken into age-specific classes with exciting color belt progressions built in.
Our Kids Martial Arts Classes in Rancho Cucamonga include:
Kinjas (Ages 3-7): Our most basic instruction, we aim to teach our Kinjas (Kids Ninjas) how to focus and understand everything we're teaching. This class promotes mental discipline as well as physical tools like balance, coordination, and dexterity.
Juniors (Ages 8-13): The beginning of our color belt program, our Juniors classes introduces foundational Taekwondo skills like punches and kicks, while encouraging students to challenge themselves and take pride in their accomplishments.
Adults (Ages 14 and up): Teenagers 14 years and older are invited to participate in our Adult Martial Arts program, learning the best traditional Taekwondo skills in town. Click here to learn more about our adult's program.
Our Kids Martial Arts Classes Promote Skills For All Aspects Of Life
Of course, our students are excited from day one about chasing the black belt. But at DRVN Martial Arts, we make mental and emotional development a priority. Our students are surrounded by positive influences and some of the best instructors in Rancho Cucamonga as they learn how to listen, focus, and execute instructions.
Your child will quickly learn skills they can use at home, at school, and even into adulthood.
Students can gain:
Respect for others at all times
Attention to detail
Leadership and communication skills
Teamwork
Self-confidence and pride in everything they do


Don't Miss Out On The Best Kids Martial Arts Classes In Rancho Cucamonga
If you're looking for the best way to keep your child motivated and active as they meet new friends and learn an awesome set of new skills, you've come to the right place.
Our Kids Martial Arts Classes in Rancho Cucamonga are great for all abilities.Your child is invited to jump in at any time!
Just fill out the short form on your screen to learn more about everything we have to offer at DRVN Martial Arts!